An artist's brush – for some an essential tool, for other's an enabler for their artistic visions. The world of art brushes is vast. Not only is there an abundance of ranges, shapes and sizes to choose from but their uses are also endless. Brushes can be used with different mediums and also provide you with the possibility to create many desired effects.
Choosing an art brush may seem daunting but diving into the world of art brushes will inspire any creative mind. Finding the right brush can really make a difference to your work so let's jump in and learn more about brushes.
Brushes for watercolours
When choosing a brush for watercolour painting, Winsor & Newton suggest looking into three essential aspects: (1) a great point which can be held to create edges and fine detail (2) a perfect "snap" or spring enabling the brush to spring back into shape during use (3) an even flow control so the colour flows consistently from the point of the brush.
If you love watercolour then a great place to start from our vast range of brushes is the Winsor & Newton Cotman Watercolour Brushes. These brushes are made from superior synthetic filaments that have an excellent colour carrying capacity. They also have a fantastic spring to them due to the combination of different filament thicknesses in the same brush.
Watercolour brushes are delicate so they need a little love and care to keep them happy and performing to their highest potential. With these brushes its best to use warm water and avoid using strong soaps. After use simply wipe your brush clean and rinse under water. You can even use a mild soap and swirl the soapy brush in the palm of your hand. Keep rinsing till the water runs clear.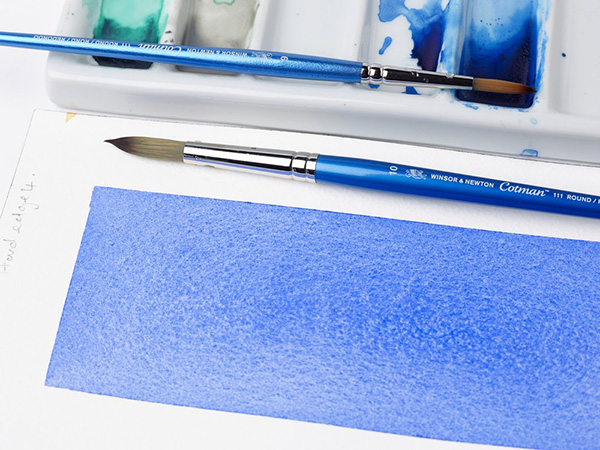 Brushes for oils and acrylics
Oil colours and heavier application of acrylics require stronger brushes that can move the thick, viscous colours. Hog hair brushes or stiff synthetic equivalents are ideal to create with these mediums.
Hog hair is commonly used for oil painting brushes as the durable, strong natural hair is able to pick up oil colour straight from the tube. In fact, our Winsor & Newton Winton Oil Brushes are a popular choice for those who love to experiment with oil colours.
Other stiff synthetic brushes also offer good flow control and a well-defined tip for detail and blending work. They also have the advantage of being resistant to damage from acrylic resin and won't soften in water. A favourite from our wide range of brushes for acrylic artists is the Winsor & Newton Galeria Acrylic Brushes. They're strong, resilient and flexible meeting the heavy demands of acrylic colours.
To care for your oil colour brushes, use a rag to wipe away as much colour as possible before rinsing the brush with our Winsor & Newton's Brush Cleaner. Create a lather and rinse the brush under warm water till water runs clear. Stay away from any detergents or paint stripper as these will damage the bristles. For acrylic brushes our top tip is to not let paint dry. Wash your acrylic brush immediately after use. Use cool water and a mild soap until water runs clear. You can even soak the brush overnight in our Winsor & Newton's Brush Cleaner for a thorough clean.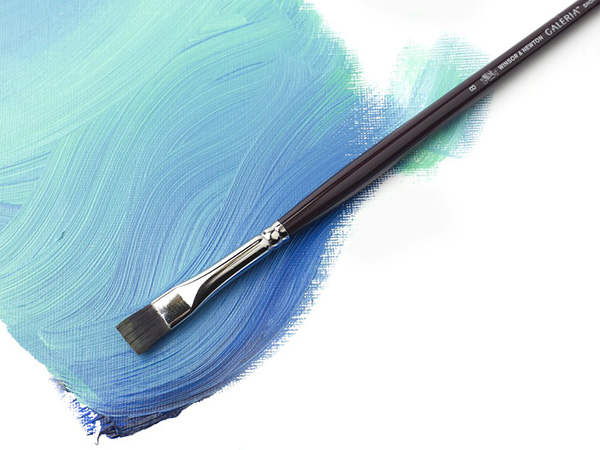 The team's favourites
Let's shed some light on the Vee Gee Bee Art team's favourite brushes. This may help you narrow down your search or inspire you to try out a new brush from our wide range.
Abi loves the brushes from our Series 999 Cotman Watercolour Brush range. She actually doesn't use them for watercolour painting but finds them perfect to blend graphite and charcoal in her work.
Diane's favourite is a brush from our Series 606 Sceptre Gold Brush range. These brushes are not only stunning to look at but Diane finds them perfect for creating beautiful watercolour washes. She also wanted to shed some light on a special brush which she finds great for small areas when using watercolours, the Cotman Angled Brush.
Maria enjoys experimenting with the opposing effects of two brushes from our range. While the Winton Hog Brushes allow her to create great effects due to the stunning brush marks they leave, she also loves the smooth finishes and blending she's able to achieve with the Artisan Brushes.
New brushes to experiment with
A new range of fantastic brushes have just joined our growing brush family. Discover these new synthetic brushes that perform at a professional level.
Create with our Winsor & Newton's Professional Watercolour Synthetic Sable Brushes offering an innovative synthetic bristle blend with excellent colour carrying capacity, resilient spring, shape retention and ergonomic handle.
Also joining our range is the Artists' Oil Synthetic Hog Glaze Brush from Winsor & Newton offering excellent shape retention and sculpted handle for the ultimate comfort, and control while painting large areas, glazing or varnishing.
We hope you enjoyed this deep dive into brushes. Feel free to get in touch with us with any questions you may have. We're always happy to discuss anything to do with art!
---